Follow me:



It has been a particularly hot summer in the UK and there have been human and animal casualties. Springer spaniels are very active dogs and obviously they don't know their own limitations. Most stories about dog deaths in the heat relate to them being left in vehicles with no ventilation or water.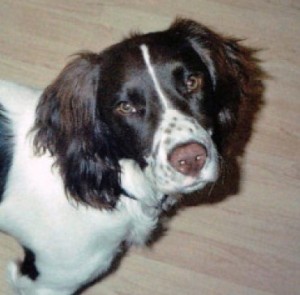 There are other occasions too, such as this sad  story I picked up about a springer dying from heat exhaustion. Rob Maclaren of TheCourier.co.uk reported:
"The seven-year-old springer spaniel, called Dylan, had been walking off the lead at Montrose Golf Links on Monday when it chased after a bitch.
It was found hours later in an exhausted state by another dog walker around two miles away near Kinnaber, who took it to the Golf Veterinary Practice in Montrose.
Practice manager and head nurse Sarah Dryden said the dog was unconscious by the time it arrived at the centre, at around 2pm.
"We put the dog in a cold bath to try to bring his temperature down, which had gone up to 108 degrees," she said. "Unfortunately, it died shortly after admission."
The dog's owners described their heartbreak that their dog, who they described as a "member of the family", had died.
Gary and Karen Neave had been away on a family holiday to Florida with their two daughters and granddaughter and had left Dylan in the care of Gary's father, Jack.
They returned home from a long flight on Monday and went immediately to bed, without knowing Dylan was missing.
Ms Dryden said it was important dog owners think about the warm weather before going outdoors with their pet.
She advised: "Make sure your dog has a drink before it goes outside when it is warm and always take water with you. Dogs should have access to water before, during and after exercise.
"Try not to exercise the dog when it is extremely warm outside. It's important to point out that it doesn't just happen when dogs are left in cars."
Thanks to TheCourier.co.uk, Rob Maclaren and for use of the owner's photo. Full story at: