Carmen Cowart had just arrived at Jonesville Park on Friday evening when Joe, her 3-year-old English springer spaniel, started running about and took a dive down a 50′ deep sinkhole. Joe survived and was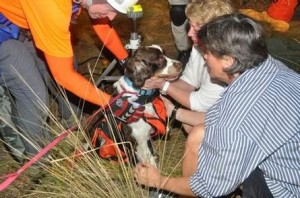 rescued by a team from the University of Florida Veterinarian School.
Thanks to www.gainesville.com for the story and picture, and to John H at the University of Florida for the tip – the guys there have carried out a few rescues.
Full story at  http://www.gainesville.com/article/20120319/ARTICLES/120319521