Follow me:



A great story from David Wilkes at the UK's Daily Mail this week. Jack, the English springer spaniel sniffer dog, finding bombs in Afghanistan. And a terrific picture too!
Technically, they are called Arms and Explosives Search Dogs. To them, it's all a bit of fun, with a reward – maybe a game or a bit of spoiling! For the soldiers though, it's life and death. When Jack's handler, Private Andrew Duff, sees Jack sit down, then it's time for very great care. Patient sitting is a sign of a 'find', and time for the bomb disposal experts to be called in.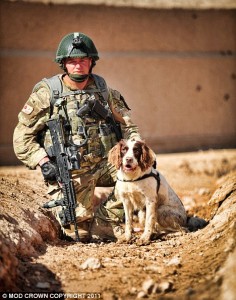 It takes 15 weeks to train a springer like Jack – and that's just basic training, which develops focus and obedience. Then it's out to the war theatre and several more weeks' training.
There have been occasions when Andrew has been convinced that Jack's training has saved his life.
I've written more about the jobs that springer spaniels carry out – it's surprisingly varied, from security to preservation – both of wildlife and ancient buildings, and even helping hospital patients to get well. Check the links at the bottom.
The full story is at the Daily Mail.